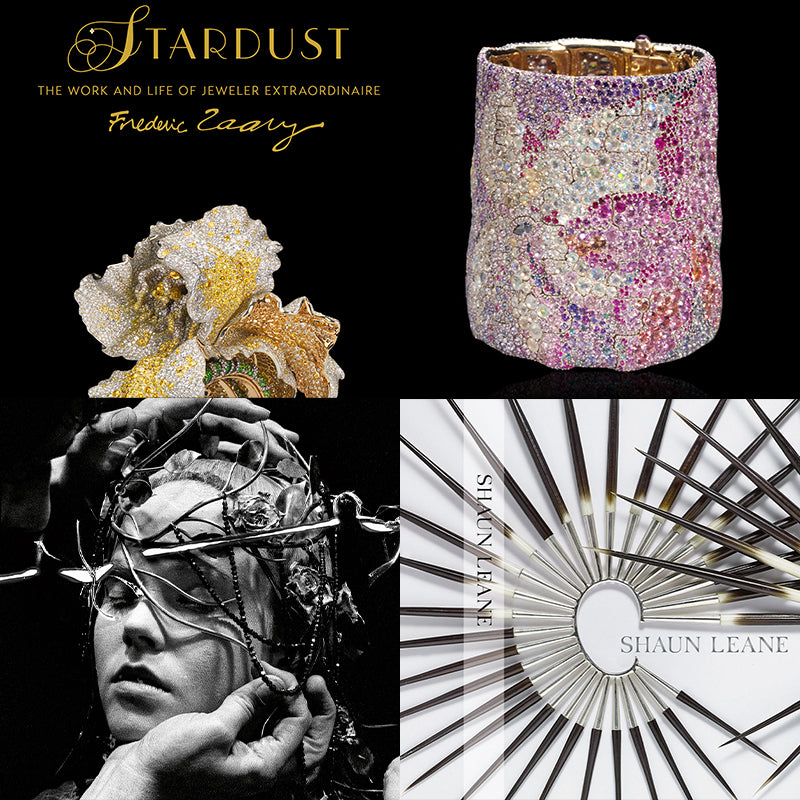 TWO MUST-HAVE GIFT BOOKS FOR THE GEM-LOVERS ON YOUR LIST
'Tis the season to shop for all manner of shiny things. And even as you weigh your choices...oh, what to choose? Pink Sapphire or Pink Tourmaline or Pink Zircon?...leafing through the pages of these two spectacular art-books about contemporary High Jewelry is sure to give you inspo. Zaavy, who created for Faberge, leaves a tender, Impressionistic legacy of technical virtuousity and sensuous wonder as he "painted" with precious gems. Leane, who partnered with the late designer Alexander McQueen, dares us to walk with him into a dark wood of Goth and punk fantasy, rendered with heart-racing beauty.
If you love precious gemstones, this holiday season offers two books you'll love, and love to give as gifts.

STARDUST- The Work and Life of Jeweler Extraordinaire, Frederic Zaavy. 
Concept, Photography and Production by John Bigelow Taylor and Dianne Dubler, Kubaba Books. 
Available to buy on Amazon and Barnes&Noble
Frederic Zaavy is described by this book's authors as "…this human meteor, lover of precious stones, and creator of pieces of jewelry that defied the imagination."
He drew inspiration from ginkgo leaves, lava-flows, icicles, and gnarled twigs, creating densely encrusted pieces displaying subtleties of color-gradation to suggest the depth of nature's palette.
Zaavy opened his Paris atelier in 2000 and began fabricating High Jewelry that his foreman describes as "…unique pieces, crazy fantasies, ultra-complicated pieces that required hundreds of hours of work or even more."
Zaavy's virtuoso technique was matched only by his imagination and vision. In his early years as a gem-dealer, he gave special attention to Tanzanite and Tsavorite, colored stones which were dismissed by the world of traditional French jewelry-making as worthless.
Zaavy knew otherwise, and literally risked life and limb traveling across war-torn Africa on the trail of the rare and exotic. He was frequently robbed (in Manhattan's diamond district as well as in Africa), and was willing to go to any length—including a ceremonial drink of water-buffalo blood—to get the first look at colored gems that would quickly redefine French haute jewelry during his brief and explosive career. 
In 2007, Zaavy formed a creative partnership with the house of Faberge, placing the rebellious artist in truly epic company.
His "Iris" bracelet is set with more than twelve thousand yellow, pink and white diamonds. His "Ribbons" series seems to defy physics, with both surfaces of the curving bows set with a glittering galaxy of white, gray and pink diamonds.

Zaavy's piece-de-resistance is perhaps the cuff bracelet called "Les Nymphéas" (the water-lilies), inspired by the Impressionist, Monet, made in 2005.
The cuff is based on an original honeycomb structure of yellow gold, so that light can enter the stone from both sides, creating the flickering, luminous quality for which Monet's work is best-known.
Zaavy used three metals—platinum, yellow gold, and silver—to create the bracelet, set with a tender spectrum of white, natural vivid blue, vivid yellow, vivid violet, vivid pink and vivid Black Diamonds, Alexandrite, Fire Opal, Aquamarine, Moonstone, Ruby, Natural Padparascha Sapphire, blue, pink and violet Sapphire, Tsavorite, and Demantoid.
The thousands of stones of various sizes are invisibly set, producing a result which is close to technically impossible. 
This setting technique was perfected in France two centuries ago, the goal being to create an unbroken surface of gemstones without any visible metal holding them in place. 
Grooves are carved into each gemstone, below the girdle, and the stones are fitted into an interior metal framework. They seem to float on the wearer's arm, as if by magic.
Zavvy died in 2011 at the age of forty-six of esophageal cancer, leaving behind a sensuous legacy of works that, in spite of their substantial heft of mineral and metal, seem as fleeting and fragile as the translucent wing of a passing butterfly.
                                ~~~~~~~~~~~~~~~~~~~~~~~~~~~~~~~~~
SHAUN LEANE by Shaun Leane, Vivienne Becker, Claire Wilcox, Joanna Hardy
Available on Amazon and accartbooks.com   
Equally intriguing and an altogether different vibe is Shaun Leane, a large-format hardcover volume documenting Leane's outrageous, even disturbing work in partnership with Alexander McQueen.
Actual porcupine quills, leather, velvet, feathers and taxidermy pheasant's feet and bird wings take their place in Leane's creations, along with strands of Grade AAA Tahitian pearls, Diamonds of all colors, Blue Topaz, Pink Tourmaline, Rhodolite, Morganite and other precious materials.
Motifs of cruelty, tribalism, restraint, control, and sacrificial wounding run through these pieces.
Especially during his runway years with McQueen, Leane created aggressive collections that matched the designer's dark vision: individual silver thorns glued to the faces of the spear-carrying catwalk models, fierce talons, horns and tusks, cat's claw hoop earrings, barbed crowns, a foot-long feathered nose-bar to be worn through the columella (the morsel of cartilage between the nostrils), aluminum jawbones placed over the lower half the face, vests of silvered vertebrae, crystal-studded face- and body-armor, modified leg-irons, a hand-forged coil corset made of aluminum rods which suggests the martyrdom of saints, and a mesh evening glove woven of white gold chain-mail, terminating in a fierce, diamond-studded manicure.
Skulls, which were McQueen's signature, even take avian form in the Eagle Skull headdress made of silver, Smoky Quartz, and Black Spinel.
Human hair, which has been used for centuries in mourning jewelry, appears in Leane's Memento Mori series made of gilt metal, glass, and enamel.
The skeleton of a snake inspired his "Serpent's Trace" necklace of white gold, diamonds, and one enormous pear-shaped emerald.
In the Foreword, Leane writes, "There have been many times when the strength and endurance of metal have been qualities for which I have searched within myself. In nature, as in life, violent ad beautiful forces dance together, and there is a delicate balance to be struck between ferocity and vulnerability."
Among his formative experiences: watching his glamorous mother separate her mascara'ed eyelashes with a pin before going out for the evening. This juxtaposition of beauty and danger defines Leane's electrifying creations which blur the line between ornament and weapon.