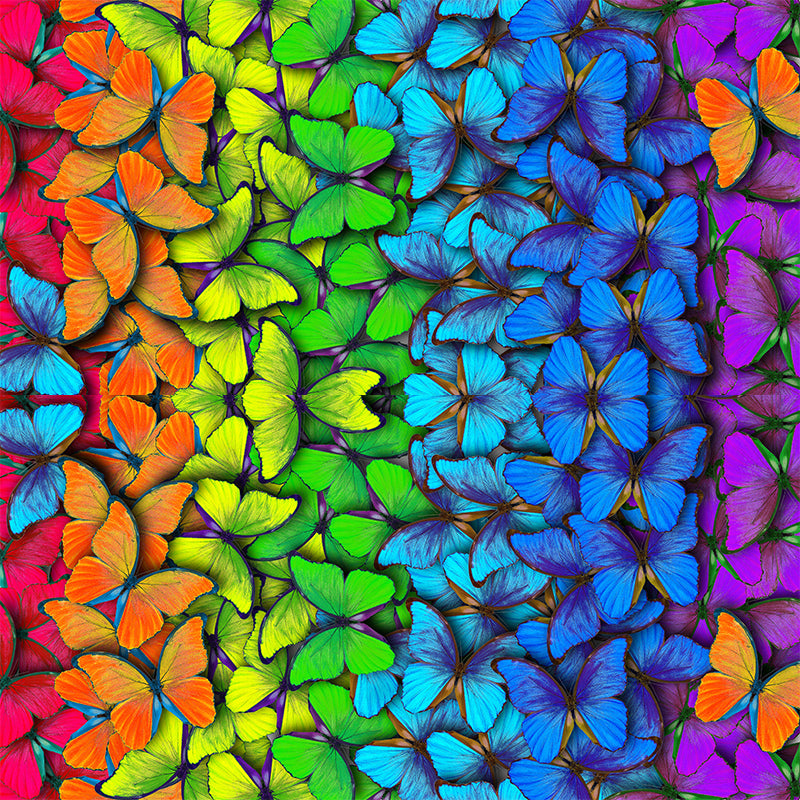 6 SHADES OF COLOR THERAPY WITH A RAINBOW OF GEMS
Entering month six of the international COVID19 crisis, it's reasonable to say that we're all feeling it in our own ways.
Most of us are experiencing many conflicting emotions at once. Joy, giddiness, and euphoria probably are not among them.
We suggest color-therapy, in the form of a gorgeous precious gemstone. 
We find that wearing color can both cure and prevent the anger, sadness, and anxiety that are everywhere today.
Over the centuries, many systems of color-analysis have been developed.  For example, India's Ayurvedic medicine assigns a specific color to each chakra.
Likewise, several birthstones are assigned to each month and sign of the zodiac, each with its own reported energetic field.
It would take a monster spreadsheet to track which planet rules each stone, and which color is best for insomnia. And it's all a matter of opinion, anyway.
Our opinion is that you should wear what you love, even if it's not your birthstone (we'll never tell).
And, even better: you can have more than one! It is impossible to misdiagnose or overdose on color. And, you can't build up a tolerance or an allergy to pink spinels or blue sapphires.
Consult with us! Any of the loose stones shown on our site are ready to be set into a custom-made piece of high jewelry.
Here's our guide to lifting your mood with color:
1-FEELING INSECURE: Reach for Red
In Maszlow's hierarchy of needs, this would correlate to your most basic sense of survival being threatened. In terms of the chakras, this relates to the base or root chakra.
All roads lead to royal, regal blood-red in this case. Red is the most dominant color in the spectrum. Historically, it's associated with Ares (Mars), the god of war, and the red planet named for him.
But wearing red doesn't mean you're a fighter, necessarily.
We recommend wearing red to rediscover your strength and courage, reclaim your confidence, and assert yourself.
We associate red with the vitality of the blood, and the bravest of hearts. This is why Dorothy wore ruby slippers in "The Wizard of Oz."  They were her homing device, her defense against scornful witches, and ultimately the fantastic footwear which delivered her back into safety.
Ruby and red spinels are natural choices for easing feelings of primal insecurity.
Wear red, and own it!
Editor's red picks:
"Primary Red" Mahenge Spinel at 1.33 carats, round-cut. Neon-bright, perfect for a passionate collector, or as the basis for a powerful piece of high jewelry.
Natural Madagascar Ruby at 3.53 carats, round-cut. Like a spoonful of raspberry jam. Sweet, yet fierce.
Natural Mahenge Red Spinel at 2.41 carats, oval cut. Brilliant, clear blue-red, like putting perfect red lipstick on your soul.
2- CRAVING CANDY. Binge on sugar-pinks and pastels
Right there with you! 
Everything's topsy-turvy and we crave the comforts of childhood: snacks, naps,  cuddles, hugs, and lots of presents !!!
Well, we're all for it.  Precious pastel gemstones are good as gumdrops, comforting as cashmere. These sweet treats won't widen your waist or send you to the dentist—and are more long-lasting than any pink-sprinkled donut.
Editor's pastel picks:
"Love Me Tender" Padparadscha sapphire and diamond ring, ready to wear! This peach-melba gem (yum!) weighs in at 2.12 carats. It's the rarest of sapphires, set in a slender, brilliant mounting with 0.39 carats of fiery diamonds. You'll love looking down and seeing it on your finger. Also sweet as an engagement, Bat Mitzvah, or Valentine gift.
Natural pink sapphire at 1.06 carats, cushion-cut.  A transparent tint, between lilac and wisteria. Sensitive and refined.
"Pink champagne" pink sapphire at 5.58 carats, oval cut. Pop the cork. Bubbly, sparkling, intoxicating.
"Cotton Candy" pink sapphire at 3.33 carats, oval cut. A spoonful of sugar helps the medicine go down.
 3-FEELING STRESSED. Code Blue!
Uh, yup. Mentally and emotionally whip-sawed, ready to snap!  
Feeling confined? Claustrophobic? 
Your kids are driving you crazy at home? 
Dreading those long lines at Trader Joe's?
We're all running on empty without our usual safety-valves – exercise, and maybe a night out for some live music with friends. 
Many of us are now more sedentary than we'd like, since our gyms may be closed for COVID-safety, and most of our outdoor fun-zones (beaches, parks, hiking trails, favorite nightspots) are restricted, or closed entirely.
We're more isolated, so we don't get to vent face-to-face with our BFFs.
The angst of the current world-situation may also be playing havoc with your sleep-patterns, adding to the anxiety level.
We find blue uniquely calming. No wonder it's the Pantone Color of the Year for 2020, symbolizing stability.
It's also the color of the sky and sea, and those go on forever.  So to lower our blood pressure and lift our spirits, we gaze up at the clouds and the heavens or take an ocean plunge. 
Next best thing: a chill-sesh with a soothing blue gemstone. 
Editor's blue picks:
"Royal Blue" blue sapphire at 6.04 carats, cushion-cut. Sapphires of this hue were precious cargo along with the fabled spice and silk routes, prized from Shanghai to Venice for their protective powers.
"Midnight" natural blue spinel, 4.06 carats, cushion-cut. Luxuriously large, deep enough to drift you into sweet dreams.
Refreshing natural blue sapphire. 3.58 carats, octagonal cut. The color of a perfectly cloudless sky—we find this reassuring.
"Titanic Beauty" natural blue sapphire and diamond ring. Oval blue sapphire weighs in at 4.43 carats, set among round and marquise-cut white diamonds totaling 1.55 carats. Majestic, heroic, proof that everything will be alright.
5-FEELING DOWN. Turn on the sunshine. 
Period. Not surprising, since your vacay to Grand Cayman was put on indefinite hold and now some days, you can barely get off the couch.
What you need is sunshine! If you can't get to the tropics, wear something sunny and fruity to make you feel, as we say in Jamaica, irie, that island cool-runnin'.
Unless you live in Iceland, it's too early in the year for Seasonal Affective Disorder (S.A.D.), but it's a known fact that UV rays cause the brain to release endorphins, natural feel-good chemicals. These gems feel like sunshine!
Turn on the good vibes with a precious gem in a warm, optimistic, solar-powered hue, and make every day a holiday!
Editor's sunshine picks:
Natural Peridot, 14.57 carats, cushion-cut. Like the feathers of a gorgeous jungle parrot winging over your beach chair, or a squeeze of lime in a frothy summer cocktail. Peridot is the birthstone for August, so it's very good luck to purchase this stone before September 1 (a little birdie told us).
"Lemon Drop" natural chrysoberyl and diamond ring. The oval, citrusy stone weighs in at 2.05 carts, set among 0.54 carats of bright white marquise and round-cut diamonds.
Natural Yellow Orange Imperial Topaz, 42.72 carats, cushion-cut, as brilliant as a sunrise over perfect summer surf.
"Cinnamon Girl" hessonite garnet, 14.6 carats, oval cut. Spicy, like turmeric and saffron. Large, glam, untreated.
"Like Butter" Ceylon yellow sapphire, 59.81 carats, cushion-cut. Breathtaking in size, clarity, and color. 
"Juice Drop" natural orange spinel, 2.63 carats, oval cut. Spinel is a recent addition to the official list of birthstones for August, making this juicy orange sparkler a great pick for Leo, the sign ruled by the sun.
6-MISSING YOUR BOO. Heart-shape Gemstones
Or your mom, your home, your siblings, your child, or any of the loved ones from whom we are separated during the pandemic.
The answer: a heart-shaped precious gem, in any color. For yourself, or for someone you love. Perfect for the romantic sentimentalist in you.
Natural Madagascar Ruby, heart-shape, at 1.52 carats. With an electric, hot pink-fuchsia cast, this would be an ideal gift for someone born in July, or as a Valentine's surprise.
"True Blue", heart-shape blue sapphire, 4.34 carats. Queenly cornflower blue, traditionally the most sought-out shade for centuries.
Natural Heart Shape Spessartine Garnet, 4.98 carats.  A mellow apple-cider color, with an autumnal feel -- because sometimes love really is sweeter the second time around.
Need a refill on your color-therapy Rx?
The doctor is in! Email us for a design consultation today!
info@heritagegemsnadjewels.com
Follow us on social media: